I decided to try and make some bags- different sizes and styles.
I have the pattern for the "doodle bags" so I made one of the large sizes.
This is really an easy pattern and a neat bag. Kinda wonky!!
I have this book called
"Chic Bags"
and it has all these patterns for different style bags.
So I decided to make the "carry all" bag. This is the same bag only the soft pink has a hard bottom- the pattern calls for a soft bottom- I like the cardboard better. I still have to put the buttons & buttonholes on for the straps. I like this size- it's lined and it has a pocket inside and I will put a closure on it.
This is called "going to the beach" and it also was VERY easy... only thing is it is so small the person to use it is someone wearing a bikini... coz you could barely get a towel and bathing suit in this one. I will make this one only bigger.
This is the "garden shopper"- for grocery shopping. It also has an interior pocket. I think I will put a cardboard bottom in this one.
And then a friend on ours was walking the block with her little boy. She stops often to say "Hi" and let us see Cole. I showed her my bags and she loved them. She asked if I could make her a purse- she got tired of the diaper bag and is in need of a new purse. Not too big- just easy.
I showed her the fabrics I had just bought to make bags with and she picked this chocolate brown w/flowers.
So I made my own pattern. It has an interior zipper pocket, a stiff band around the opening to keep it's shape and a snap closure. I made her a matching small zippered bag so she can just take her keys, cell phone & wallet. She LOVED IT! I did to. It really looked nice.
I have a few quilts for birthdays to finish- then I will start making more bags.
Almost June!!! Where has time gone?? It was sure a pretty Memorial weekend.
The flowerbeds are coming along... I will post new pic once I get all the plants in.
Can you believe Kaleb is 4 months old today!!! Such a big boy!! Here he is at 3 moths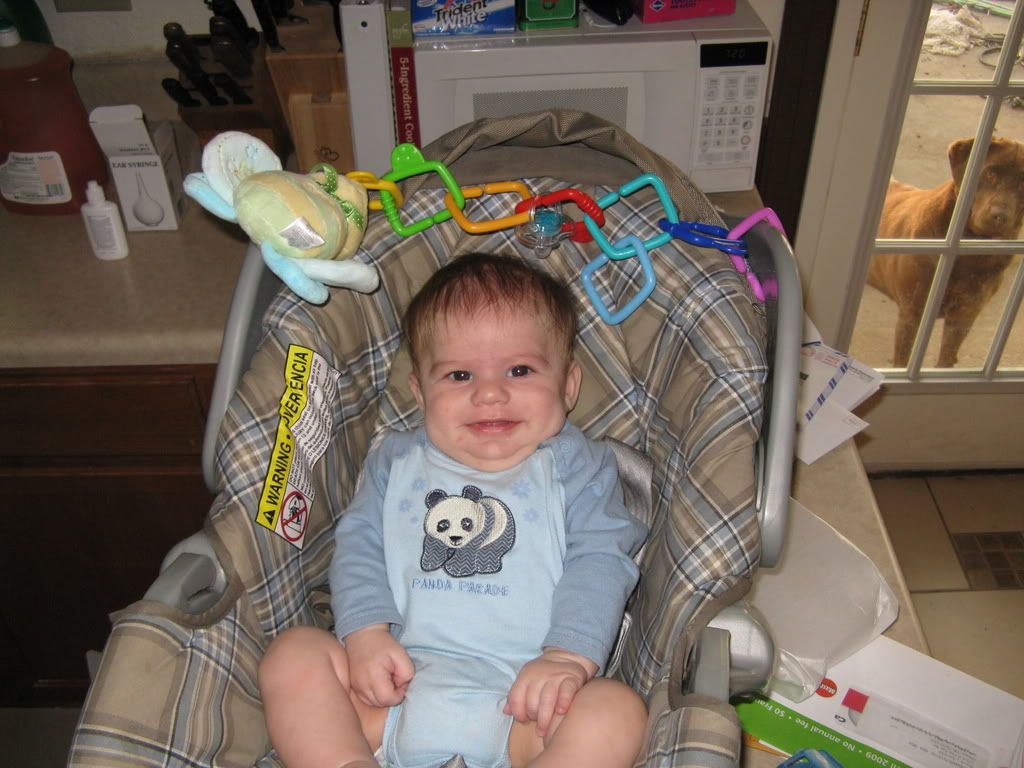 Till next time- Later Darlin'